January 6, 2016
BOSTON, MASS. – Blue Hill Country Club, the storied 90-year old private club in the Boston suburb of Canton, has completed its recapitalization with Concert Golf Partners, the boutique owner-operator of private clubs. Blue Hill CC played host to the 1956 PGA Championship and hosted the LPGA's Boston tour stop for six years during the 1990s. The transaction, unanimously approved by the member-owned club's Board of Directors and unanimously ratified by its members, pays off all club debt, lowers annual dues by 30%, injects more than $2 million into 2 immediate capital projects at the club and bars any future assessments on the membership.
"This partnership with Concert Golf ends our debt challenges, and ends our long-standing internal debates about funding capital projects with member assessments," said Blue Hill club president Jim Marano, who led the 2015 effort to recapitalize. "Just since announcing this deal, we have seen a significant uptick in membership applications at Blue Hill."
The legendary Jackie Burke won the 1956 PGA Championship at Blue Hill, where, from 1991-1997, the club hosted the Ping/Welch's stop on the LPGA Tour. Donald Ross protégé Skip Wogan designed the 27-hole track, which was restored in 2003 by Ron Prichard, who specializes in Ross restorations. Blue Hill CC is known by better golfers as one of the finest parkland courses in New England.
Blue Hill Board member Tim Nelson welcomed the recapitalization after years of internal debate: "The membership had been discussing various capital improvement projects since 2013, and how to fund them. It got so contentious that we never even voted." Instead, the Board decided to seek a partner that would fund and complete the necessary capital projects. "Several local developers wanted to bulldoze our 9-hole Challenger course to build homes," Nelson added, "but the membership strongly favored retaining all 27 holes – and so we unanimously chose Concert Golf, which put that preservation in writing."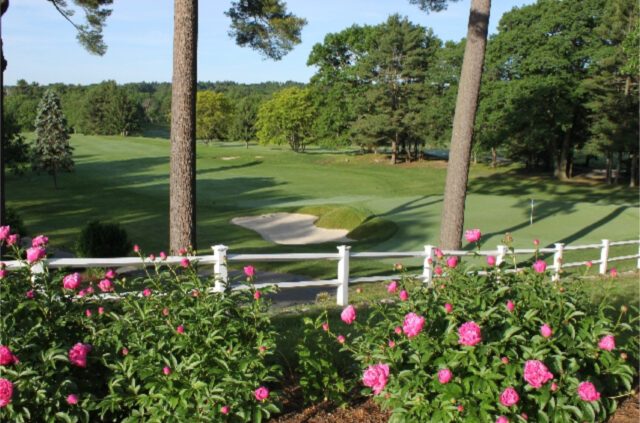 Concert Golf CEO Peter Nanula announced that his team would immediately undertake several long-deferred capital projects at Blue Hill CC, including an expanded driving range and short-game practice area; a new 19th hole lounge for members; and renovation of the clubhouse, including the 3rd floor 250seat banquet room with breathtaking Boston views.
"Blue Hill CC is a classic example of a great club with a terrific golf course and loyal membership but capital challenges typical of those we see at member-owned clubs across the country," Nanula said. "For member-owned clubs, these capital issues are daunting and often seem intransigent — but they're easy for us to solve. We paid off all the debt at Blue Hill yesterday, which means no more member assessments. We 3 will pay for and complete these much-needed improvements much faster than the club ever could, at no cost to the members."
Prior to its recapitalization by Concert Golf, Blue Hill Country Club was one of several thousand private-equity clubs struggling to compete in an overcrowded, post-recession marketplace. It's widely accepted that, of the 2,500 member-owned private clubs operating in the U.S. today, at least 50 percent are carrying dangerous levels of debt.
Blue Hill CC in particular — opened in 1925 and operated as an all-Jewish club for 75 years — borrowed $6 million and began assessing the members to finance a 2012 clubhouse renovation. Dues and assessments were increased several times, some members left, and yet the debt remained.
"Once your club's combination of dues and assessments makes the monthly bill 'out of market' with other area clubs," Nanula explained, "it becomes difficult to attract new members at this higher price point — and your member attrition also rises. It's a vicious cycle, and the only solution is to pay off the debt and re-set your dues at market levels."
Blue Hill CC is not the first formerly all-Jewish club for the Concert Golf team. "In Connecticut, we helped an all-Jewish club in Hartford reposition itself back in the 1990s," Nanula said. "Sometimes it is hard for once-ethnic clubs to shake their old identities. With a new owner-operator and a fresh injection of capital, it is the perfect time for Blue Hill to refresh the club's image as an open, diverse club with a solid financial foundation."
Jim Marano, Board President at Blue Hill, now sees nothing but blue skies ahead for the storied club: "Our dues are back down to market levels now, with a written guarantee of no more assessments ever again. We already have lots of former members — who left the club in the last few years due to the uncertainty — asking if they can come back to Blue Hill."
Concert Golf Partners is a boutique owner-operator of private clubs based in Newport Beach, Calif. Formed by Nanula, the founder and CEO of Arnold Palmer Golf Management (1993 to 2000), Concert Golf has 4 amassed $150 million to invest in and upgrade large-scale private clubs located in major metro areas. Concert Golf is also unique in operating as an all-cash buyer with a dedicated fund, which, Nanula said, allows it to acquire or recapitalize clubs (without incurring debt) and subsequently invest in these properties for the long term.
Concert Golf has recently acquired 12 such clubs nationally, including longtime member-owned clubs such as West Lake CC in Augusta, MacGregor Downs CC in Raleigh, and CC Woodmore in Washington DC. Indeed, Blue Hill CC members now enjoy reciprocal privileges at these and Concert Golf's other upscale clubs, including the recently acquired Hawthorns Golf & Country Club in Indianapolis.
Nanula praised Blue Hill CC board leadership for its speed and decisiveness.
"The Board at Blue Hill found itself in a position shared by hundreds of member-owned clubs across the country, i.e. serious disagreements about which capital improvements projects to prioritize and how to fund them," Nanula said. "The Blue Hill leadership wisely decided to find a partner with capital and club operating experience. Once that decision was made, they set a deadline and everything moved very smoothly. The Board vote was unanimous and the member vote ratifying the deal was unanimous."